Mehak Sharma is surfing on the waves of life, in wanderlust and an insurmountable love for fashion. She is full of passion & energy, with an eye for quirky creativity. One must try her blog 'Shades of Moon' for some freshness and insight. Here's what we found out about her.
Favourite fashion designer and why: Manish Arora – I remember as a school kid, who was in love with colours and used to browse through magazines just because they were bright and flashy. It was during one of these browsing sessions that I stumbled upon Manish Arora garments and fell in love ; My Love at First Sight Moment. I still have not come across anyone merging colours as good as him. We Indians are very colourful and that is what makes us stand out from the rest of the world and he is magnificently replicating that.
You would wardrobe swap with: Rhea Kapoor – She is the brain behind Sonam Kapoor's wardrobe, so I am guessing her's would be better. Plus I would get to experiment a lot with my looks which I love.
One holiday destination on your radar and why: Two actually : Northern Norway/Alaska – Northern lights and star gazing is a dream awaiting to be true.  And Maasai Mara – Nature and Animals! Period.
A restaurant everyone must go to and why: Molecule, Gurgaon – Finger licking food and the best bar ever., Plus I love how positive and happy the place feels. The vibe is very important.
If you could go back in history, what fashion era would you like to live in? 1960's – It was a decade of experimentation. Very classy and sexy with clinched waist skirts, culottes, Pant suit, hats. Even In India, there were a lot of fitted suits, Fashionable blouses with saree., Polka dot dresses. Very Stylish!
What do you like the most about SBL? I love how Fashion forward the collection is at StalkBuyLove and the size ranges from XS to 2XL. So you need not be a particular size to feel stylish..
She went on to pick her current favourite from SBL.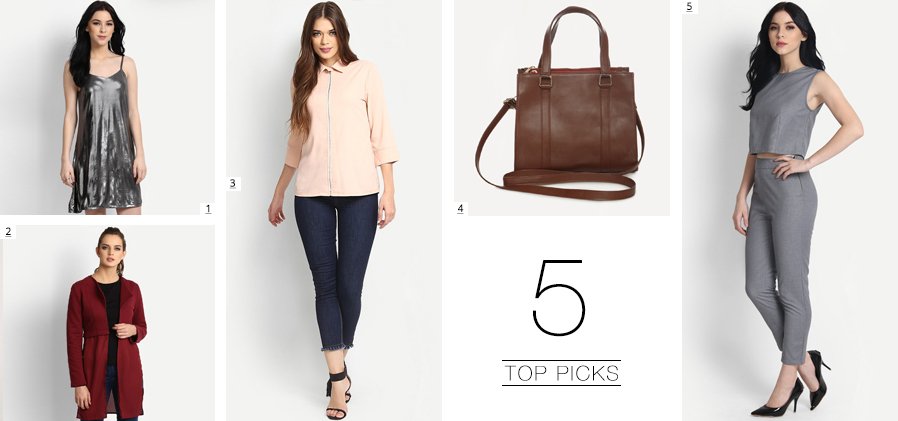 Metallic and Slip dresses are everywhere and they are here at StalkBuyLove too.
That Colour is everything and it will make a basic jeans and tee stand out.
The only time of the year when i prefer jeans. And when they are stretchy and ankle length, it's a yes from me.
Basic brown bag – Check!
Very basic but an important part of the closet. These Co-ords pieces paired together or separately will never go out of style.